The Remedial Room is an injury and post surgical  centre that caters for everyone. Our clients range from athletes and fitness competitors seeking treatments like sports massage for optimal performance, to those requiring aftercare in their post-surgery recovery and aiming for assistance achieving their most desired result. 
At the Remedial Room, we have been fully trained and certified to work with people who suffer non-communicable diseases such as cancer, diabetes, respiratory disease, arthritis and cardio-vascular diseases. For such clients we offer a non-invasive and therapeutic approach aimed at reducing symptoms and increasing range of motion and joint mobility.
As part of our training in Health Exercise Specialties, clients can chose to commit to a full rehabilitation programme or may wish to avail of basic exercise prescription as part of their treatment plan. At the Remedial Room, we like to offer clients a combined approach in treating pain and will often use a variety of therapies and modalities to accelerate their recovery.
Any course of action in treating physical, emotional and mental health will generally involve a multidimensional approach. Discover our wide range of holistic and therapeutic services and the issues we can help you with.
WHY DO I DO WHAT I DO?
Having worked at a desk for 13 years and earning a Masters Degree in a non-related field, Karen decided to retrain at UCD qualifying in Injury & Remedial Therapy after having her second baby. Karen's love of sports, particularly long distance running, motivated her to pursue her interest (bordering infatuation!) in treating injuries, dysfunction and pain, having dealt with many of her own issues over the years.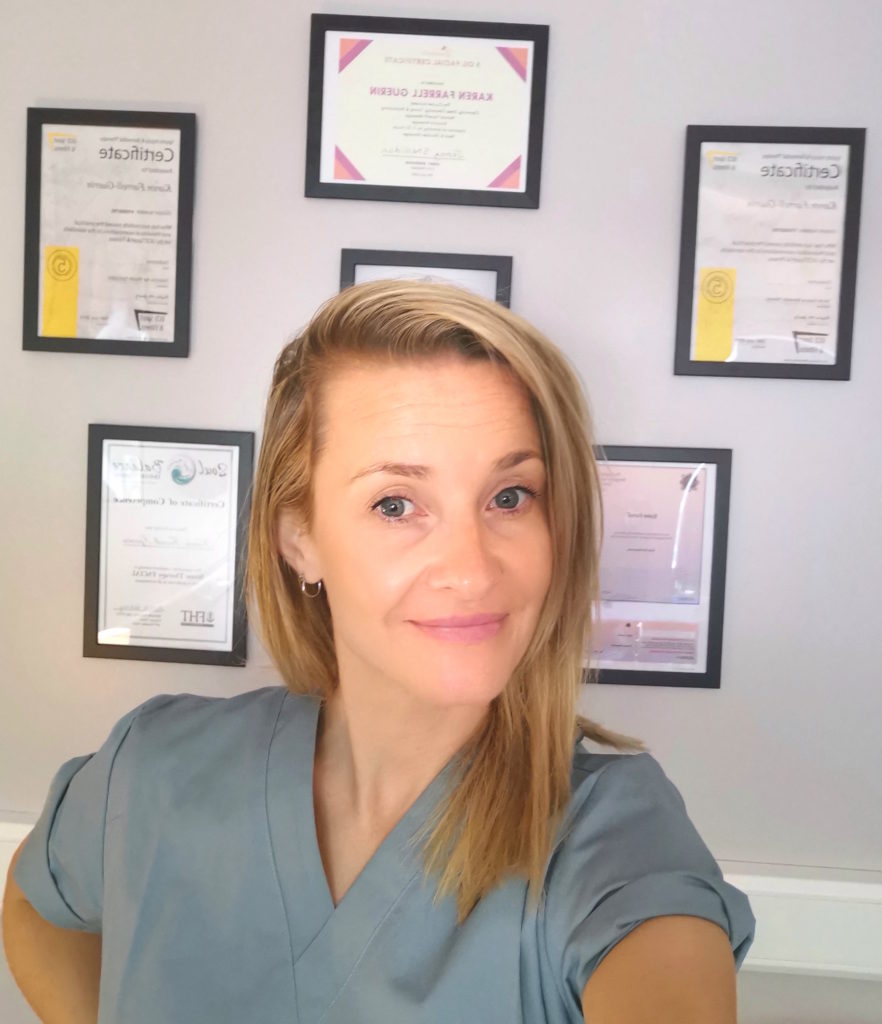 During her own rehabilitation journey, Karen felt the benefits of her sports therapy treatment. However, as someone who has also enjoyed the luxury of holistic therapy, felt they lacked that calming and nurturing after-feel. Why the necessity to be treated by different therapists in different fields? Karen set out to change this in her own practice and prides herself on offering a soothing and holistic environment, ensuring her clients not only feel relieved of their painful symptoms but also relaxed and uplifted after their visits. This is what sets Karen aside from similar practitioners in her field. Her approach is all encompassing using therapeutic and holistic techniques to treat the whole body and mind.
Karen started studying in the field of physio-aesthetics in 2019 and has since earned herself an array of qualifications in Ireland, France, the UK and the USA in various body sculpting and contouring techniques from the leading specialists in the field. Karen is extremely passionate about this work and the outcome of her patients results, so much so that when she discovered there was very little options for post-surgical garments in Ireland she dedicated herself to finding the most effective garments and stocking them herself. 
Karen prides herself on being able to recommend and advise on areas of nutrition, scar management and self care and to this end has erected a training portal full of essential resources and learning which has been made accessible to all. 
Our customer reviews are important to us! All feedback we receive from our wonderful clients aids us in building not only a strong relationship but also establishing trust in the community.
"
I went to the Remedial Room recently for a hot stone massage and I can easily say it was the best massage I've ever had. I had never had a hot stone massage before but Karen put me at ease and the whole experience was very relaxing. I would definitely go back again. I would opt for the hot stones too as I thought it was a fantastic type of massage. Highly recommend it."
"
Karen was so professional and welcoming, I felt very safe having my sports massage today. It was so great to finally find someone who could not only relieve pain, but give me a clear direction as to how I can remedy some issues. I left feeling looser and so very relaxed. Looking forward to my next appointment.
"
Just home after the most amazing massage from Karen. I feel like a million dollars. Can't wait for my next appointment.
"
Highly recommend Karen she is lovely person and unbelievable with what she does.. I definitely will be back from the moment I walked in the door to time I was leaving she made me feel so welcome and I felt 100% Brilliant after my treatment. Thanks very much xxx
"
Couldn't recommend her enough, absolutely brilliant at her job.
"
What a lovely experience my daughter had with Karen, she had been having niggling sports injuries,Karen gave her great advice and some homework, she felt great after her treatment. Highly recommend.
"
Karen was lovely. brilliant at her job. would highly recommend her. instant relief on a shoulder injury. will definitely be returning.
"
Today I visited Karen at Remedial Room for treatment for a neck and shoulder issue. Karen is a thorough professional who immediately eased my pain and discomfort. I couldn't recommend her highly enough. I will be back!
"
Went and got my 1st sports massage this morning from Karen and already i can feel the difference in certain area's and i would highly recommend this to anyone with a sports injury or just some relaxation time to make a booking here with Karen.
"
First time in a long period having tried massage therapy for a long standing injury, Karen was fantastic in identifying the places that needed to be worked on and returning mobility and flexibility for me. Book with absolute confidence!